Loving your bedroom is important because it's a place of relaxation, and we spend the majority of our time there. Lots of new home owners know what they like the look of in a space, but just aren't sure how to recreate it themselves. Our advice? Pick a theme and stick with it, don't mix and match too many styles/trends, otherwise you will end up confused and a big pile of things to be shipped off to the spare room. What are the latest interior design trends for 2018 and just how do you create the bedroom space of your dreams? Read on to feel inspired and ready to style your home.
INDUSTRIAL

When we think of industrial design, we think minimalistic, dark colours and lots of metal. It doesn't seem very appealing for an area of your home especially bedroom, but wait! In home industrial design looks and feels a whole lot different. Splashes of black and grey softened by natural light, a touch of greenery and maybe a steel beam or two can make for a really cool space for your bedroom.
FOUR POSTS BED
Just like flared jeans, four poster beds are making a comeback, and look fantastic as the centerpiece of any bedroom. With either a modern spin or a traditional look, it's an effective way to differentiate the master bedroom from the other bedrooms in the house. In many circumstances, modern design isn't always practical, but here's a refreshing thought, you can also keep out unwanted morning sun with light curtains from the horizontal beams. Different, romantic and practical.
STATEMENT CARPET AND RUGS
Many renovations of older houses involve ripping out old carpet often sporting a crazy print. So why on earth are we recommending to reinstall printed rugs and carpet? Well because it looks great, if it's done right of course! Floral prints tend to create a calming aura in a room because it reflects feelings of nature, making it a great central theme for a bedroom design. If you're going for a louder retro look, you can't go wrong with a striking black and white print. Our biggest tip with this trend is, if you're not sure, get a rug to start off with. It can still add enough personality to your bedroom design to add the finishing touches.
LUXURY
What does luxury look like in the bedroom? We are here to tell you that it's all about layers and layers of linen, a cluster of carefully selected cushions, and lots of textures. It may be a task making the bed everyday but if it looks good that's all that matters, right? The more cushions the better. Custom made accessories for your home are another sign of luxurious bedroom design, in addition to fancy electrical work inclusive of media device power points.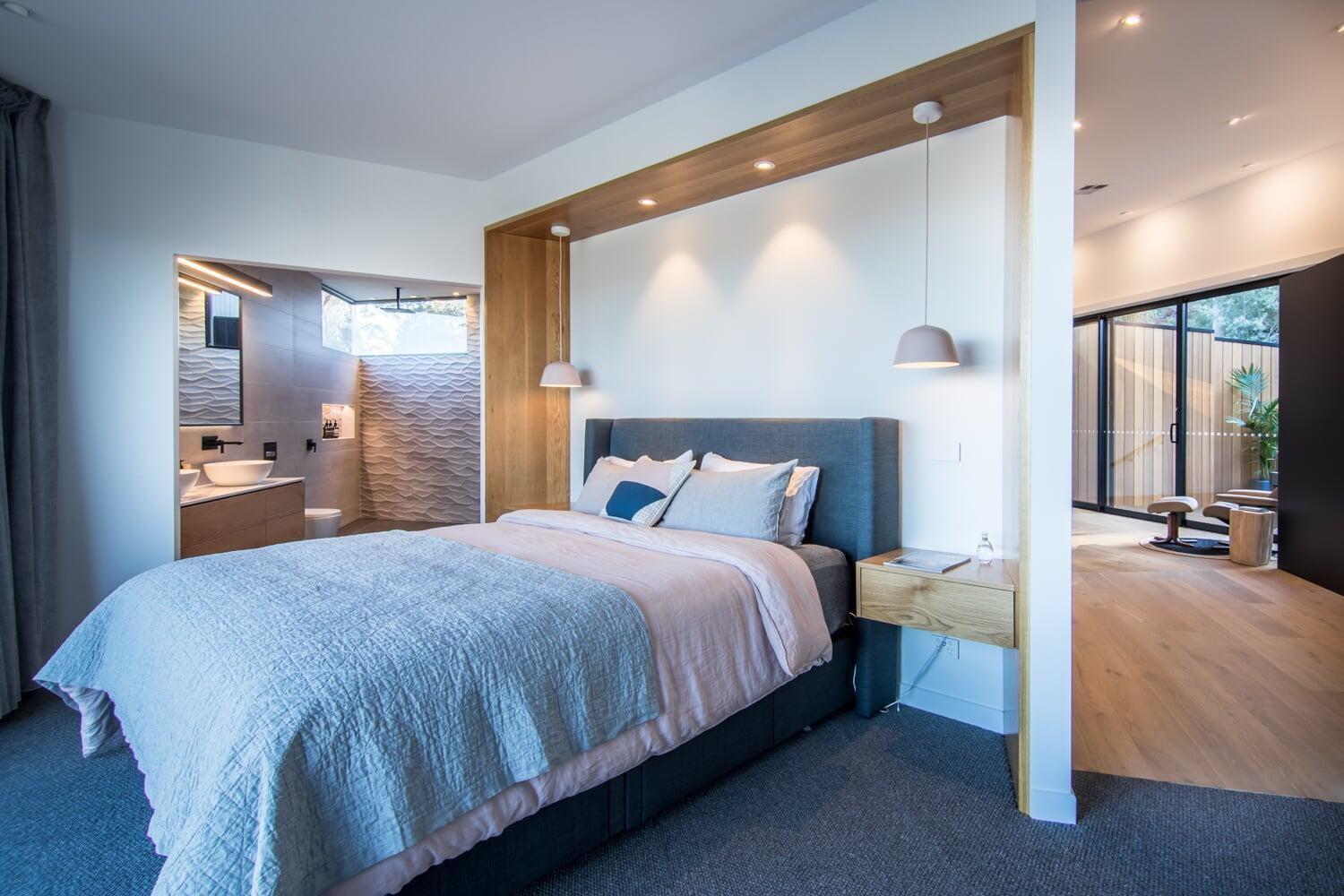 LIGHT IT UP
Bedside lamps are not exactly on the out, but have been taken over by a craze of hanging bedside pendants. They not only look great but create a sense of symmetry in the room which creates a feeling of peace and calmness for many people. The latest trend in hanging lights are diamond shaped frames and also beautifully crafted shades out of cane.
If you're already planning the look of your master bedroom in your head right now, we have done our job! Hopefully you are inspired, updated on the trends and feel completely equipped to dive deep into designing your new bedroom.